SOPRATHERM Warm Roof
The EQUUS SOPREMA SOPRATHERM warm roof system is a light-weight, thermal roofing system consisting of the SOPRASUN PLUS two-layer waterproofing membrane system torch-applied over thermal insulation board and a vapour barrier. A warm roof system guarantees a continuous and efficient thermal resistance (R-value) as per the New Zealand Building Code, and is designed for use on exposed flat roofs. The system is designed to meet the requirements and environmental challenges of the New Zealand climate, while still providing an economical waterproofing solution.
EQUUS SOPREMA SOPRATHERM warm roof offers a UV resistant, modified bitumen membrane (APP) finished with coloured slates, providing the building owner with protection against the demanding local weather conditions, and an attractive grey finish. The modified bitumen membrane also retains a high softening point, which allows for a more forgiving membrane during installation in hot conditions.
The system has been assessed and complies with the New Zealand Building Code, and holds a current BRANZ appraisal.
While the base sheet and cap sheet is standard and suitable for use across the country, the thermal insulation and vapour barrier parts of the warm roof are specifically designed based on the requirements of the project.
This system can be used on plywood, concrete, and metal substrates to form a warm roof system.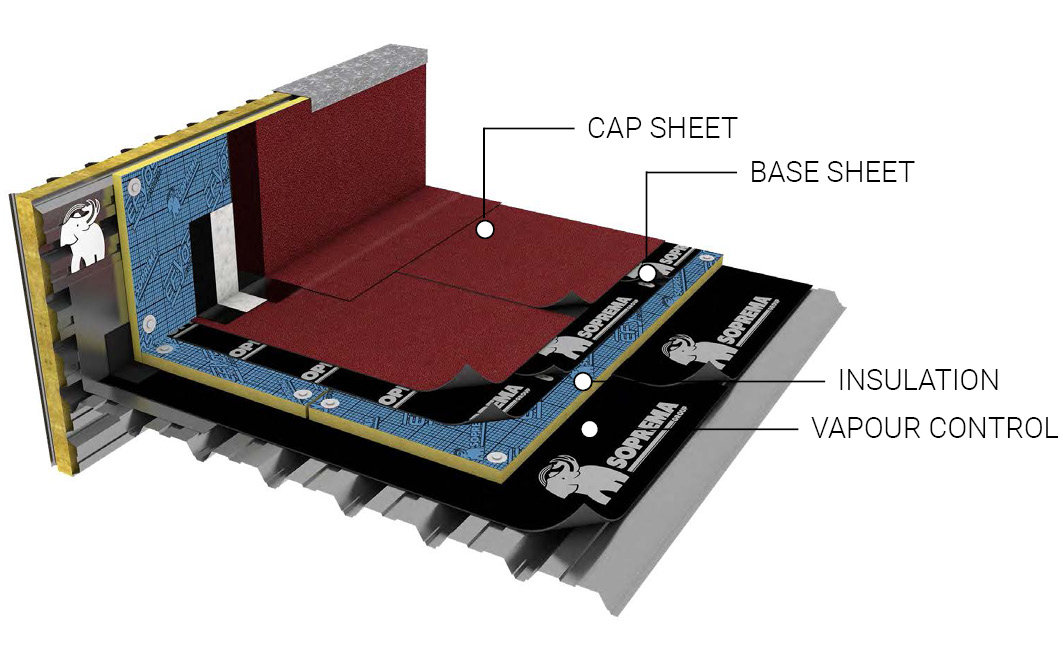 Why use a warm roof?
*  Each project is independently designed with the use of project specific Condensation Risk Analysis (CRA) and Wind Uplift Studies to ensure the best system available for the buildings requirements.
*  Condensation Control – The roofing system moves dew point to the outside of the structure, ensuring there is no condensation build up in the ceiling cavity
*  Because there is no condensation build up from the interface of cold and warm air within the roof space, this negates the need for mechanical venting = less penetrations in the membrane.
*  Energy Cost savings are maximized with less need for heating or cooling throughout the building. The system pays for itself over time.
*  Creates more space within the ceiling for services.
*  Light-weight system, strong and flexible for resistance to seismic movement.
Key Benefits:
SOPREMA is the largest supplier of waterproofing products around the world

Economical solution

Proven UV resistance

Excellent dimensional stability

Durable membrane

Wide temperature tolerance for installation throughout the year
Technical support provided by our team:
Project specific specifications and details

On-site quality assurance

Certified Applicator installation available nationwide

Extended Warranties available