Schomburg Aquafin IC
Crystalline waterproof slurry
Exterior and interior waterproofing in cellars, lift shafts, foundations, retaining walls. Waterproofing containers for drinking and service water, retaining basins, water treatment plants, garages, tunnels etc. Waterproofing beneath screeds (unbonded screeds or floating screeds).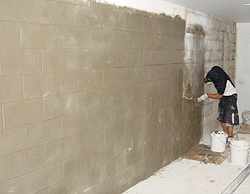 Schomburg Aquafin 2-KM
Flexible two component waterproofing coating
External waterproofing of old and new buildings against ground moisture, humidity, pressure water.  Horizontal waterproofing beneath masonry. Internal waterproofing against humidity from outside.  For waterproofing of underground carparks, prefabricated garages, containers, service water tanks, liquid manure contrainers, canalisation, areas of high humidity, terraces, balconies and swimming pools. Safe and economic waterproofing beneath tiles in wet rooms, where water impermeability against long term and permanent water table is demanded, i.e. in bathrooms, kitchens, shower rooms, on balconies and terraces.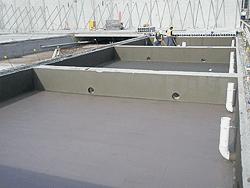 Ready Rep
A multi-purpose, fast setting, high strength, two-component repair mortar

Ready Rep has been designed for use as a fast and durable repair mortar to be used to repair damages, holes and imperfections in concrete substrates. Can also be used in machine bases, joint arrises, drill and bolt holes etc.