Designed for underground, below slab horizontal and vertical external blind side waterproofing applications, the Colphene waterproofing system does it all – and is compatible with thermal insulation too.
When we think of the waterproofing systems of a building or structure, our minds naturally conjure images of its visible exterior: its cladding and roofing, and its points of ingress like doors and windows.
But there's a lot more to structures than their face-value exteriors. And for many residential and commercial buildings, what happens below ground is just as important as what happens above when it comes to waterproofing.
Underground waterproofing is the process of preventing water or moisture from penetrating the foundation, basement or subterranean spaces of any building. It's a particularly crucial part of the construction process for buildings in areas with high levels of precipitation or groundwater, or areas with a high water table.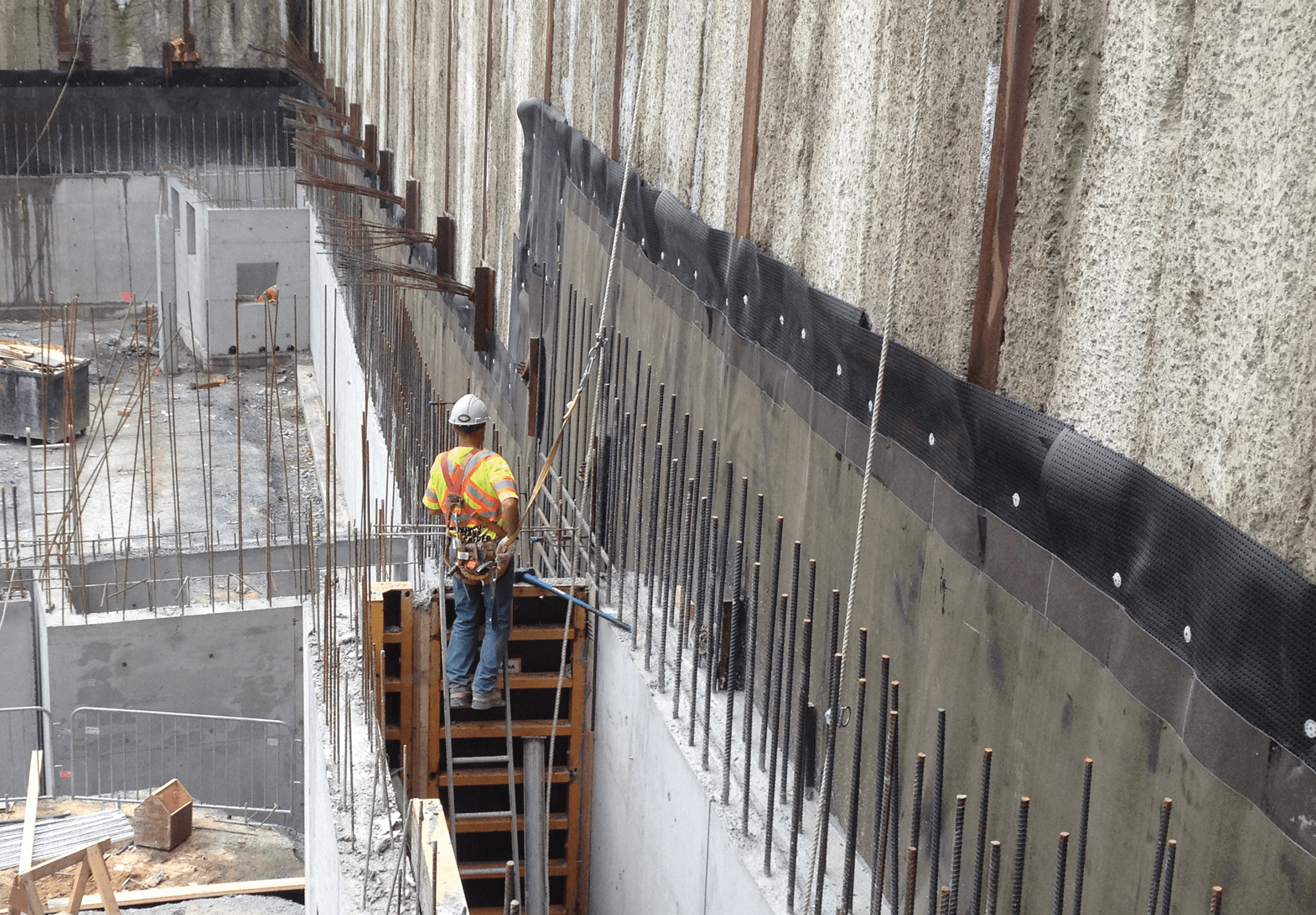 The Colphene solution: A reinforced system that works
As one of the foremost providers of underground waterproofing systems and services in New Zealand, Equus Industries along with product partners Soprema, wield decades of expertise in the field – and Oliver Verdickt, Regional Manager for New Zealand for Soprema, a product partner with Equus Industries, says the practice has more benefits than many would expect.
"Our work starts in the foundations, which we protect with waterproofing materials designed specifically for subterranean use," says Oliver. "We protect both the concrete as well as the reinforcement steel – and in buildings with below-grade rooms, it protects any internal inhabitable or storage spaces."
Compared to conventional external waterproofing, the work that goes into underground waterproofing is so distinct that it's considered a totally different type of process, similar only in their goals of keeping water out. With external waterproofing, elements like UV exposure, fire risk, wind and changes in temperatures all need to be considered.
Underground, it's a whole new kettle of fish: hydrostatic pressure, water contaminants in existing soil, and dimensional movements between different layers of soil. Different sites often require different waterproofing methods, often contingent on whether labourers can operate outside the site – usually in rural or open spaces – or whether they're constrained to a small site, as in many urban areas.
Depending on this and other factors, waterproofing products can either be pre-applied – where waterproofing products are installed before the structural elements like concrete slabs and steel – or post-applied, where the products are applied to newly constructed structural elements.
Soprema Colphene BSW, Equus' fully reinforced membrane system, takes into account both construction techniques, Oliver says.
"It's designed for underground, below slab horizontal, and vertical external blind side waterproofing applications," he says. "It's also ideal for buildings situated on sites with both low and high water tables. Buildings closer to sea level are susceptible to more hydrostatic pressure, so we've ensured that the Colphene BSW system can be fully waterproof with a sophisticated drainage system."
Combining waterproofing and insulation
The system does this primarily through its high-performance waterproofing membranes, which are composed of reinforced, SBS-modified bitumen. The upper surface is coated with crystals that specifically adhere to the concrete slab when freshly poured against the membrane – and this adhesion with the concrete creates a watertight bond preventing water infiltration to the concrete.
But it's not just waterproofing that Equus excels in. Before the recent changes to the thermal efficiency standards of the Building Code, there was not much focus on underground thermal insulation. But following the H1 changes, in some cases, it's hugely beneficial to bolster the thermal performance of below-ground concrete at the same time as waterproofing – and Equus can do both.
"Before the H1 changes, it was done as a 'best practice' by some architects," says Oliver. "But following the changes, adding thermal insulation to underground concrete now adds to the total thermal performance of the entire building.
"To make a long story short, adding this underground thermal insulation can contribute to the overall R-value of a wall system – which can give architects and designers a bit more flexibility with how they design the visible, above-ground walls. This can potentially result in more space for windows, for example."
The Colphene BSW waterproofing solution by Soprema and Equus' below-ground thermal insulation products complement each other well and make for a highly efficient structure.
And in a construction landscape that's continually changing and striving for efficiency, delivering an entire underground system that fulfils both of these crucial elements – waterproofing and insulation – is a valuable offering, Oliver says.
"While the systems themselves can sound complex, the benefits are multiple and shall definitely be considered for every below ground structure."
Learn more about Equus and its expertise in underground waterproofing and insulation.