Warm Roof Design made easy with Equus and SOPREMA!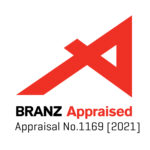 A warm roof comes with a lot of different design parameters such as thermal insulation, sound insulation, fire-retardance, aesthetical requirements, etc.
The NEW Equus SOPREMA Warm Roof BRANZ Appraisal allows you to combine any SOPREMA waterproofing membrane ranging from flameless two-layer systems to torch-on systems and single ply TPO membranes, also pick the thermal insulation that you like whether it's PIR or mineral wool, making this warm roof system in a class of its own, unique to Equus Industries and SOPREMA.
Finally, we advise on the best installation technique based on your project design. Upgrade with a roof cover board or a sound insulation vapour barrier, it's all possible. Don't make it hard, tell us what you need to achieve, and we'll help and direct you to get there.
Click here to the BRANZ Apprasial.